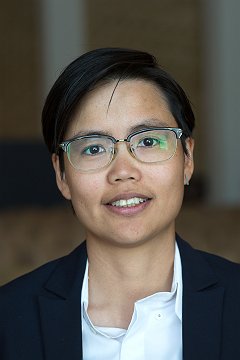 Registered user since Wed 22 Aug 2018
Bio:
Winnie Soon is an artist-researcher-coder-educator whose works intersect art, cultural studies and programming practice. She has a MA from School of Creative Media, City University of Hong Kong and a MSc from Institute of Digital Art and Technology, Plymouth University in UK, and 10 years experience as a programmer, designer, information architect and project manager in both corporate and educational settings. She has recently completed a PhD at the Center for Participatory IT (School of Communication and Culture), Aarhus University with the topic titled "Executing Liveness: An examination of code inter-actions in software (art) practice". She has awarded the Top-Ranked LABS Abstracts 2017 by Leonardo and the winner of The 2018 Aarhus University Research Foundation PhD award. Currently, she is Assistant Professor at the Department of Digital Design and Information Studies in Aarhus University, teaching Aesthetic Programming and Digital Culture.
Informed by the cultural, social and political context of technology, Winnie's work approach spans the fields of artistic practice, media art, software studies, cultural studies and computer science, examining the materiality of computational processes that underwrite our experiences and realities in digital culture via artistic and/or coding practice. Her works explore themes/concepts around digital culture, specifically concerning internet censorship, images politics, data circulation, real-time processing/liveness, the culture of code practice, etc. Her projects and lectures have been presented internationally at museums, art festivals, universities and conferences, including but not limited to ZKM, Transmediale2015/2017 (Berlin), Electronic Literature Festival2018, ISEA2015/2016 (Vancouver, Hong Kong), V&A Museum (London), ARoS Aarhus Art Museum (Aarhus, Denmark), Si Shang Art Museum (Beijing), Pulse Art + Technology Festival (Savannah, USA), FutureEverything Art Exhibition (Manchester), The Wrong – New Digital Art Biennale, Hong Kong Microwave International Media Arts Festival, Taipei National University of Arts, Karlsruhe University of Arts and Design and The University of Hong Kong.
Winnie's current research focuses on Exploratory and Aesthetic Programming for arts and humanities, working on two books titled "Aesthetic Programming: A Handbook of Software Studies, or Software Studies for Dummies" (with Geoff Cox) and "Fix My Code" (with Cornelia Sollfrank).
Affiliation:
Aarhus University
Research interests:
Artistic Practice/Research, Machine Learning and Natural Language Processing in Art and Culture, Software Studies, Internet/Software/Media Art, Humanistic/Exploratory/Aesthetic Programming.
Contributions